Report Subscription by Email
This feature allows subscriptions to be set up for
Child Rollsheet,
Child contacts,
Child Medical Conditions,
Child allergies
Child unauthorised pick ups
Driver pickup
Different staff members can be added to the subscriber list. Reports can be set anywhere between daily or weekly

Contingency Plan

One of the major uses for this features is setting up automatic emails to programme managers as a contingency plan for the rare event of you not being able to access information on aimy Plus. This means that relevant people will have a copy of the information from the selected reports they subscribe to in their email inbox.
Subscribe Users to Receive Reports
To Subscribe a staff member to receive a report from all of or just some of the available options below:
Child Rollsheet,
Child contacts,
Child Medical Conditions,
Child allergies
Child unauthorised pick ups
Driver pickup
Go to Reporting > Subscription by Email
Click Add Subscription:
You can give a custom name for the report. The reason for this being is that you may subscribe some users to receive reports at different time intervals than others. This will help to distinguish the difference between these.
Continue by selecting the reports you would like to be included in the subscription, choose the Report Period and select the First Delivery Date: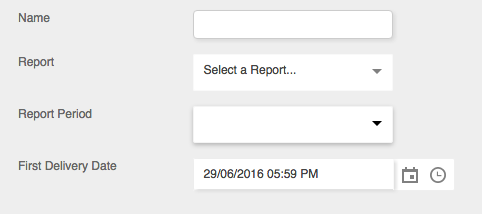 The left hand side table will show the total Staff List of the Site and the right table will show those staff members who have been subscribed to the report:

To move staff from the unsubscribed Staff List to the Subscribers list:
Click "Add" in the staff list
Click "Save" when you are finished

Related Articles

Staff Timesheet

Timesheet shows the clock in and out time of staff members and the times they were rostered on for. The summary tab shows the hours and the days staff members worked. The current week is shown by default, previous weeks can been seen by cycling ...

Staff Management

This is where new staff can be added and changes to existing staff can be made. Staff can also be linked to other sites using the link staff feature. Click the "Add New Staff" button to add staff. Enter Staff Details and click "Save" A staff ...

Staff Roster

This is where staff can be added or removed from a roster. Rosters in the past, present and future can be viewed here. The roster for a week will start of blank when there are no staff rostered on To create a new roster click the Manage Roster ...

Editing Staff Profile

Staff that are not an admin can edit their own profile details from their dashboard page after logging in When staff log in they will see their profile page on their dashboard.. Details can be edited by clicking the "Edit Profile" button this will ...

Head office staff management

At the head office level there may be admin staff that you would like to manage and add to the staff roster. Using the staff management features at the head office level this is possible to do. There are 3 main areas to managing staff. Staff ...