Registration & Enrollment
Parents can register themselves or admin of a site can do it through parent management.
Parent management is where a list of parents registered at a site can be viewed.


Parent Management

You can also register new parents in Parent Management by clicking Register New Parent button.


New Parent Registration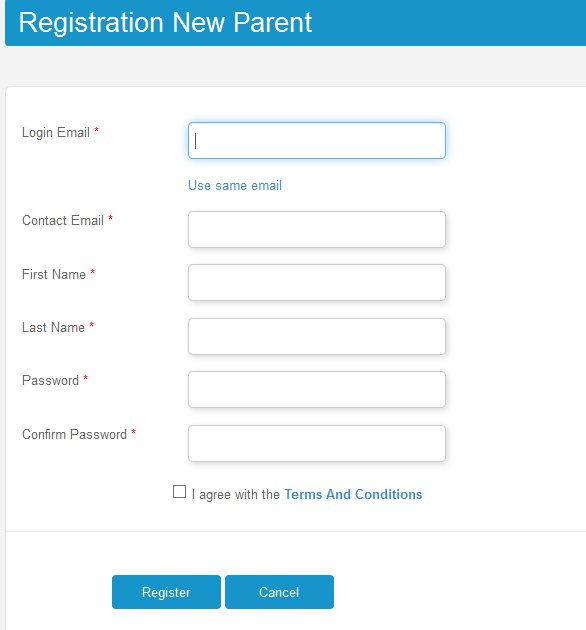 Register new parent




This is where site Admins can register new parents without going into parent management.
Enrolment
Parents can enrol their children as part of their registration.

dmin of a site can also enrol children when they register a new parent.
Children currently enroled at a site can be viewed in Child Management
Related Articles

Print Enrollment

Enrollments can be exported and printed from the Booking Manager by pressing the print button. A report will be produced with children that have bookings and their profile information as well as booking information in a given date range. This report ...

Holiday Booking Features

Holiday booking is different to regular term time booking and some features have been created to make this booking easier to do. The first feature to help with holiday booking is the ability to hide or show certain holiday programmes. This is useful ...

Parent Management

This is where a list of parents registered at a site can be viewed. The parents profile can also be viewed and edited here by an Admin. Also viewable here is child info and booking history. It is also possible to make a booking from here. Parent ...

Child Details Report

You find this report under reporting > all reports (use dedicated reports server for the best speed) This report gives information about a child from the child profile that was entered in during registration. Use the age filter at the top to filter ...

Can't register parent in aimy Plus - "Email address is already in use"

If you have received a notification that the parent is already registered in aimy Plus when you attempt to register a parent in your site, this is because the parent already has previously registered with another aimy Plus site. It is recommended ...